-Dec crush lower than expected
-Dec soybean oil stocks much larger than expected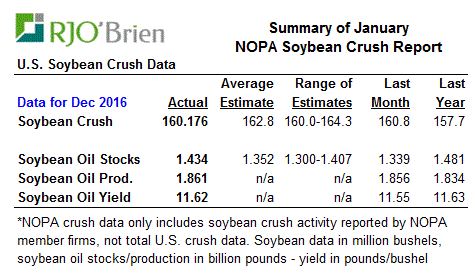 NOPA reported soybean crush in December was 160.2 million bushels, below average market expectations of 162.8 million bushels, near the bottom end of the range of market ideas of 160.0-164.3 million bushels, up only marginally from November's 160.8 million bushels, but was above last year's December crush of 157.7 million bushels. Nonetheless, the 1.6% year-over-year increase in December crush was the smallest gain of the 2016/17 marketing year so far as September through November crush rates were 2.1%, 3.6% and 3.0% above year ago levels. Moreover, the average daily crush rate in December of 5.17 million bushels was down from November's 5.36 million and October's 5.31 million/day rates. While a decline in the daily crush rate in December is common, as seen in the 4th chart below, the decline this year was larger than usual. A few other observations of note that illicit some slight concern about the December crush number are that this is the first year in six years in which December crush was down from November, while crush clearly slowed more dramatically relative to record levels of late as the 160.2 million bushels crushed in December was well of the record for the month of 165.4 million bushels compared to November's 160.8 million being just off the monthly record of 161.2 million and notably different than October's record-setting 164.6 million bushels. September-December NOPA crush totaled 615 million bushels, up 2.6% from last year, while the USDA's 2016/17 marketing year total crush estimate of 1.930 billion bushels reflects expectations for a 2.3% increase for the year.
by Randy Mittelstaedt